Side Opening &

Side Sliding
The SO56 Combine one sliding window and one lift-up to perfectly suit your requirements on both sides.
The SO56 model to suite any of your skilled craftsman's needs. The perfect fit.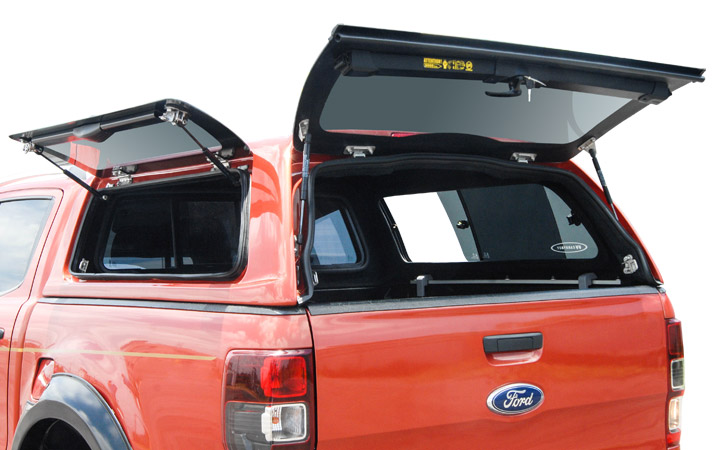 Lift Up Window designed for ease of use. The handle is keyed to the side windows, which are all supported by gas struts to support the windows open.
3rd brake light and black roof rails
Reach your tools easily with side access. It is the ideal choice for both work and play!
Standard features of the SO56 include : —
Custom-fit premium hardtop design.
One-piece construction.
Complete interior grey carpet.
Locking system in stainless steel.
Tinted side glass windows.
Roof rails with 60kg load capacity.
Installation by use of clamps, no drilling required, no permanent changes to original vehicle.
Outer surface flat and glossy, material and surface allows easy painting in body colour (if required)
High quality gas strut with CARRYBOY brand.
High quality engineered material is mould the inner and outer shells for high impact resistance.
Fiberglass inner and outer shells provide an extremely light weight free of metal frame which is prone to trust.
Light weight, solid, strong and rust-free throughout its lifetime.
Fiberglass with high specific strength. Perfect water-proof.
Weather-resistant design makes this our best-performing hardtop.
Side Lift Up

and Side Sliding Windows
CMND-SO56
Mitsubishi Triton
2015-
Now!
Side sliding windows with external locks and a single key operates all access points allowing convenient entry to the cargo area.
Carryboy
has been manufacturing hardtops for
40 years
and have proven levels of quality, comfort and reliability. Our unique and extended process produces hardtops that are stronger and high-quality.

We can do almost anything!
T.R.K Bangkok Industry & Exporter Co.,Ltd.
888 Luangphaeng Road, Tabyao,
Ladkrabang, Bangkok 10520,
Thailand
ISO 9001
Quality
ISO 14001
Environmental
©
Copyright 2022-2023
Best view with
mobile devices
At
, we believe that the future belongs to the manufacturer who can meet and exceed consumers' demands for better designed and better built products. As consumers express their individuality through the products they buy and use, they require more choices. has demonstrated its commitment to satisfying its customers desire for form and style, as well as fit and function.
©
Copyright 2022 — 2023 All rights reserved
fiberglass canopy (or hardtop canopy ), car accessories, cargo box, kiosk, caravan, ambulance, rescue, trailer, car services, CNG/NGV, aluminium tray, fleet sales and tonneau covers provide pickup / truck owners with the ideal way to secure and transport cargo. Custom-designed to fit virtually every pickup on the road today, can enhance the value and usefulness of every pickup / truck on the road.

is known across the pickup / truck accessories industry for its outstanding warranties, product design and quality, and reliable customer service.
The Name of Quality and Design