The Luxury and

Elegant Hardtop
The Carryboy S7 distinctively proud stance leaves you with a feeling of uncluttered and luxury. we make is designed to simplify and improve your life.
The Series 7 hardtop is aimed at users who want to give their pick-up trucks SUV styling.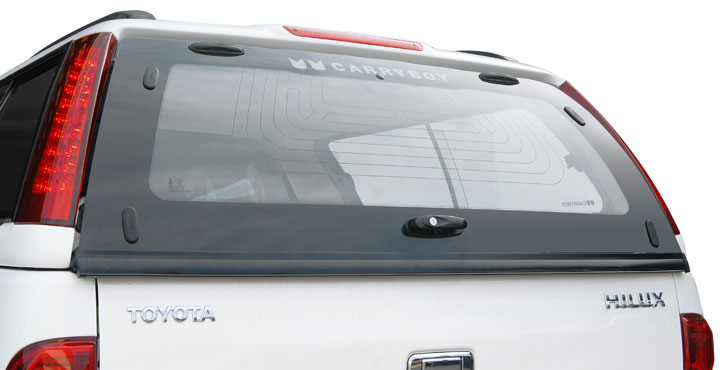 Red Pillar LED —

Good-looking SUVs
Side sliding windows with locking catches. Easy to open, sliders glide horizontally from side to side.
3rd brake light and black roof rails
The Series 7 is made for those who love to drive, and appreciate an enhanced level of versatility and comfort along the way.
Standard features of the S7 include : —
Custom-fit premium hardtop design.
One-Piece Construction.
Tempered safety glass tinted windows.
Two way sliding side windows
Roof rails with 60kg load capacity.
Installation by use of clamps, no drilling required, no permanent changes to original vehicle.
Outer surface flat and glossy, material and surface allows easy painting in body colour (if required)
Twin gas-struts for easy opening and access
High quality engineered material is mould the inner and outer shells for high impact resistance.
Fiberglass inner and outer shells provide an extremely light weight free of metal frame which is prone to trust.
Light weight, solid, strong and rust-free throughout its lifetime.
Fiberglass with high specific strength. Perfect water-proof.
Weather-resistant design makes this our best-performing hardtop.
The

Ultimate

Canopy Look.
CLTC-S7
MG Extender
2019-
Now!
CMZTC-S7
Mazda BT-50 Pro
2012-
Now!
We offer a S7 of hardtops with a wide range of designs and features to suit your needs.
CNFK-S7
Nissan Navara
2005-2014
Compare our Carryboy Hard top with any other available on the market and you will see why we are the best for quality and value for money.
Our canopies are strong and extremely durable, combining the perfect blend of functional design and style. We use high quality materials specially manufactured to excel.
Left Hand Side Lens Unit — Made from an ABS plastic the tailgate lenses are simple to replace and match the orginals exactly. The lenses come finished in a gloss black but there is nothing to stop anyone from re-painting to match the colour of the canopy.
Carryboy
has been manufacturing hardtops for
41 years
and have proven levels of quality, comfort and reliability. Our unique and extended process produces hardtops that are stronger and high-quality.

We can do almost anything!
T.R.K Bangkok Industry & Exporter Co.,Ltd.
888 Luangphaeng Road, Tabyao,
Ladkrabang, Bangkok 10520,
Thailand
ISO 9001
Quality
ISO 14001
Environmental
©
Copyright 2023-2024
Best view with
mobile devices